Headaches aren't just fleeting pains that come and go. They can be persistent, sometimes debilitating conditions that impact the quality of life for Dallas residents. It's essential to recognize the symptoms early to seek prompt treatment. Here are the varied symptoms associated with different types of headaches:
Migraines: Often accompanied by a throbbing or pulsating pain, usually on one side of the head. It's common for individuals to experience nausea, vomiting, and extreme sensitivity to light and sound.
Tension headaches often present as a constant dull ache on both sides of the head, tightness around the forehead, or pressure at the temples.
Cluster headaches: Recurring severely painful headaches that occur in clusters, characterized by intense burning or piercing pain behind or around one eye.
While these are some general symptoms, individual experiences can vary. At Innovative Therapy PC, we understand these nuances and tailor our treatments to each patient's needs.
The root causes of headaches can range from environmental factors to underlying medical conditions. Some frequent triggers and causes include:
Stress: The demands of daily life, especially in a bustling city like Dallas, can lead to tension headaches.
Environmental triggers: Bright lights, loud noises, or even certain smells can set off migraines for some individuals.
Dietary factors: Skipping meals, dehydration, or consuming specific foods and drinks like aged cheese, alcohol, or caffeine.
Postural issues: Poor posture, especially during long hours at a desk or repetitive motions, can lead to tension in the neck and shoulders, culminating in headaches.
Medical conditions: Sinus infections, hormone fluctuations, or diseases like hypertension can also be responsible for headaches.
Determining the cause is pivotal. At Innovative Therapy PC, we delve into these root causes, ensuring our treatments are superficial and address the problem's core.
Headaches can become so severe they could blind a horse and are incapacitating and complicated.
When serious medical reasons for the headache(s) have been ruled out and you are still living in pain it is time to find some gain by looking at the issues from a new perspective.
Dysfunctional breathing patterns, poor spinal support, and imbalances in the skull, just to name a few can all contribute to incapacitating headaches.
These issues frequently don't show up on scans or tests. Looking at the bigger picture of habitual patterns and kinesthetic actions can change these patterns for life.
Identifying the type and cause of a headache is paramount for effective treatment. Typically, a comprehensive approach is best:
Medical History: Detailed discussions about the frequency, duration, and nature of the headaches, along with any associated triggers.
Physical Examination: A thorough examination can help pinpoint potential underlying conditions or issues. This might include checking for tenderness in the neck, sinuses, and other regions.
Diagnostic Tests: In some cases, tests like MRIs, CT scans, or lumbar punctures might be recommended to rule out other conditions.
Your journey to a headache-free life starts with a proper diagnosis. And who better to guide you on this journey than the experts at Innovative Therapy PC? With our detailed assessments and personalized care, you're in trusted hands.
The treatment of headaches isn't a one-size-fits-all approach. Therapeutic modalities are recommended depending on the headache's type, cause, and severity. Here's an overview of the potential treatments:
Lifestyle Changes: Dietary modifications, ensuring proper hydration, managing stress, and maintaining a regular sleep schedule can alleviate many headache triggers.
Physical Therapy: Techniques like posture correction, stretches, and exercises can significantly reduce the frequency and intensity of headaches, especially those related to muscular tension.
Medication: Over-the-counter pain relievers or prescribed medications can be beneficial. For chronic or severe headaches, preventive medications might be recommended.
Alternative Therapies: Approaches like acupuncture, chiropractic adjustments, or massage therapy can be effective for some individuals.
At Innovative Therapy PC, our approach to headache treatment is comprehensive. We believe in targeting the root cause, ensuring you find relief and prevent recurrence.
Headaches Pain Dallas, TX
Say goodbye to headaches and hello to clarity with our innovative treatments in Dallas, TX.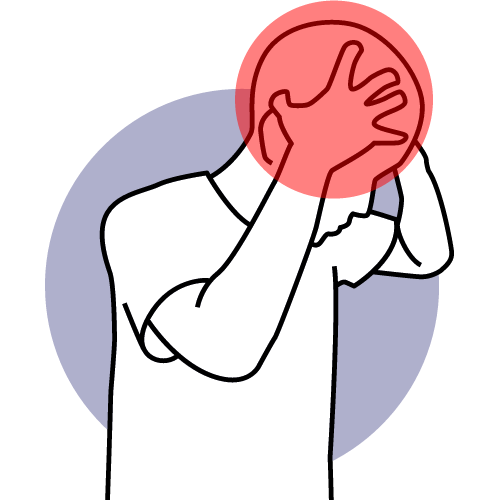 What Not To Do When Experiencing Headaches Pain?
While seeking treatment is essential, knowing what to avoid during a headache episode is equally important. Here are some general guidelines:
Avoid Bright Lights and Loud Noises: These can exacerbate the symptoms, especially in the case of migraines.
Limit Screen Time: Prolonged exposure to screens can intensify headache pain. If you must use a device, adjust the brightness and take frequent breaks.
Don't Skip Meals: An empty stomach can worsen the pain. Try to consume small, balanced meals.
Avoid Stress: While it's easier said than done, try relaxation techniques like deep breathing, meditation, or gentle exercise.
Limit Caffeine: While a small amount might help alleviate symptoms for some, too much can trigger or worsen headaches.
Why Choose Innovative Therapy PC?
What makes Innovative Therapy PC stand out in a sea of healthcare providers?
Personalized Approach: We understand that every individual's experience with headaches is unique. Our treatment plans are tailored specifically to your needs.
Experienced Professionals: Our team boasts a wealth of knowledge in diagnosing and treating various headaches, ensuring you get the best care.
Holistic Care: We don't just treat the symptom; we dive deep into the root causes, providing lasting solutions.
Modern Techniques: We combine tried and true methods with the latest therapeutic innovations at Innovative Therapy PC.
Convenient Location: Situated in the heart of Dallas, TX, we're easily accessible for all residents.
Headaches can be debilitating, but with the right care, they don't have to rule your life. Trust in Innovative Therapy PC and take the first step towards a brighter, pain-free future. Contact us at (214) 225-8530 or email mary@test.innovativetherapypc.com for more information.
Say goodbye to headaches and hello to clarity with our innovative treatments in Dallas.