For Dallas residents grappling with pelvic discomfort, understanding the signs is the first step toward getting effective treatment. At Innovative Therapy PC, we encounter a broad spectrum of symptoms that our clients present. 
Some common manifestations of pelvic pain include:
A persistent or intermittent ache in the pelvic region.
Sharp, jabbing, or cramping sensations that may come and go.
A feeling of pressure or heaviness deep within the pelvis.
Pain during activities such as intercourse, walking, or even sitting.
Discomfort that intensifies during menstrual cycles or urination.
Recognizing these symptoms early can greatly improve the success of treatment. The team at Innovative Therapy PC emphasizes the importance of timely consultation for optimal outcomes.
Pelvic pain isn't just a symptom; it's a cry for help from your body. Multiple factors can be responsible for it, making it essential to be evaluated by specialists. 
At Innovative Therapy PC, we often observe the following primary causes of pelvic pain among our Dallas clients:
Reproductive Complications: Issues like endometriosis, ovarian cysts, menstrual cramps, or fibroids can lead to pronounced pelvic discomfort.
Digestive System Disorders: IBS (irritable bowel syndrome), Crohn's disease, and chronic constipation can manifest as pelvic pain.
Urinary Disturbances: Urinary tract infections, interstitial cystitis, and kidney disorders can be culprits behind pelvic pain.
Musculoskeletal Problems: Weakness or strains in pelvic muscles, hernias, or misalignment can cause discomfort in the pelvic area.
Remember, each individual is unique, and so is their pain. Personalized diagnosis and treatment are the cornerstones of our approach at Innovative Therapy PC.
The pelvis at first glance seems very solid, however, it includes 3 joints and many muscles which if not working together can turn your life upside down.
Connecting the brain to the pelvis and all of the muscles in the region using our proprietary system of evaluate, customized treatment and a customized home program will give you your life back.
Correct diagnosis is paramount when it comes to effectively treating pelvic pain. At Innovative Therapy PC, we employ a systematic approach to ascertain the underlying cause of the discomfort:
Detailed Patient History: We start by understanding the patient's history, including the nature of the pain, triggers, duration, and any associated symptoms.
Physical Examination: A hands-on examination of the pelvic region can provide valuable insights into the potential causes.
Diagnostic Tests: Depending on the initial findings, further tests such as ultrasounds, CT scans, or MRIs might be recommended.
Specialized Procedures: In certain cases, minimally invasive procedures like laparoscopy can be employed to get a clearer picture.
With state-of-the-art facilities and a team of dedicated professionals, Innovative Therapy PC ensures Dallas residents receive accurate diagnoses, guiding them on the path to recovery.
The treatment of pelvic pain requires a multifaceted approach tailored to the specific needs of each individual. At Innovative Therapy PC, we're dedicated to providing Dallas residents with the most effective and advanced treatments available. 
Here's how we tackle pelvic pain:
Personalized Therapy: Recognizing that every individual's pain is unique, we design a personalized treatment plan. This might include physical therapy, exercises, or stretches to strengthen the pelvic region.
Medication Management: Some patients may benefit from medications that address the root cause of their pain, whether it's inflammation, infection, or another issue.
Advanced Procedures: For certain conditions, minimally invasive procedures or surgeries might be recommended. We ensure that our clients receive the best care, employing the latest medical technologies.
Holistic Approaches: Alongside conventional treatments, we offer holistic methods such as acupuncture, biofeedback, and relaxation techniques to enhance recovery and well-being.
Find relief and comfort from pelvic pain with our expert therapy services in Dallas, TX.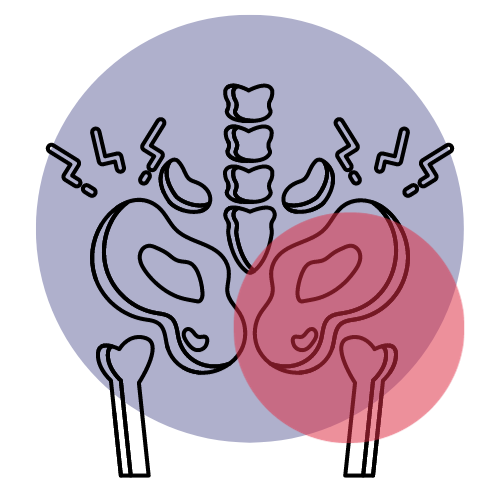 What Not To Do When Experiencing Pelvic Pain?
When experiencing pelvic pain, it's just as crucial to know what not to do as taking incorrect measures can exacerbate the problem. 
At Innovative Therapy PC, we advise against:
Self-Diagnosis: While it's tempting to turn to Dr. Google, misdiagnosing oneself can lead to inappropriate treatments.
Overexertion: Pushing yourself through the pain, especially with rigorous activities, can worsen the condition.
Delaying Medical Care: Ignoring persistent pain or hoping it'll go away on its own can result in complications.
Taking Over-the-counter Medications Without Consultation: While some OTC drugs might provide temporary relief, they might not address the root cause and can sometimes result in side effects.
Why Choose Innovative Therapy PC?
For Dallas residents searching for a trusted partner in their journey towards a pain-free life, the answer is Innovative Therapy PC. 
Here's why:
Expertise: With years of experience and countless success stories, we've established ourselves as Dallas's premier pelvic pain specialist.
Comprehensive Care: We're not just about treatments; we believe in holistic care. From the first consultation to recovery, our team supports you at every step.
Advanced Facilities: Our state-of-the-art infrastructure ensures you get the best treatments available in the medical field.
Patient-Centric Approach: We understand the physical and emotional toll of pelvic pain. At Innovative Therapy PC, you're not just a patient; you're family. Our team is dedicated to understanding your goals and monitoring your progress closely.
Easy Accessibility: With our contact details at your fingertips, reaching out is hassle-free. Call us at (214) 225-8530 or drop us an email at mary@test.innovativetherapypc.com.
Choose Innovative Therapy PC for an unrivaled commitment to your well-being and recovery.
Find relief and comfort from pelvic pain with our expert therapy services in Dallas, TX.