For many residents in Dallas and the surrounding areas, elbow pain can significantly impede daily activities. Recognizing the symptoms early can lead to faster and more effective treatments. Here are the primary indicators:
Consistent pain: The discomfort can range from a dull ache to sharp, searing pain. It might be on the inner, outer, or even the back of the elbow.
Stiffness: Waking up with a stiff elbow? It's a common sign of an underlying issue. This stiffness can sometimes limit the joint's range of motion.
Tenderness: The mere touch or pressure on the elbow causes pain.
Weak grip: Difficulty holding objects or experiencing a weakened hand grip can stem from elbow issues.
Locking or clicking: These sensations might suggest more severe joint problems.
Suppose you're experiencing any of these symptoms. In that case, the expertise at Innovative Therapy PC can guide you on the right path to relief.
Understanding the root causes of elbow pain can aid in effective treatment. The reasons can vary, but typically include:
Tendonitis: Often stemming from repetitive motions, it's an inflammation of the tendons (like tennis or golfer's elbow).
Bursitis: An inflamed bursa sac, often due to prolonged pressure on the elbow or a direct blow.
Arthritis: A degenerative condition affecting the elbow joint, causing pain and stiffness.
Ligament Strains: Overstretching or tearing of the ligaments in the elbow due to injury or overuse.
Nerve Entrapment: Nerves around the elbow getting compressed or irritated.
At Innovative Therapy PC, we possess a deep understanding of these conditions. We aim to offer swift and effective solutions by tailoring treatments specific to your needs.
Elbow pain is most commonly a result of cumulative trauma, meaning inflammation that results from repeated movements performed over and over again.
Testing and treating the body to use the body as a system removes stress from the elbow and distributes the stress throughout the body balancing how much stress ends up at the elbow.
We can show you how to bring this balance with our proprietary system.
Correct diagnosis is pivotal for an effective treatment plan. Here's a glimpse into the diagnostic approach:
Consultation: A comprehensive chat about your symptoms, activities, and medical history.
Physical Examination: Assessing the elbow's movement, strength, and overall condition.
Imaging: Depending on the symptoms, X-rays, MRI, or ultrasound might be recommended.
Functional Tests: To evaluate the elbow's performance during specific movements or tasks.
Remember, early detection can lead to better outcomes. Trust in Innovative Therapy PC to provide a precise diagnosis and a roadmap to recovery.
By anchoring the information around your business, we're emphasizing the importance of seeking expert care at Innovative Therapy PC for anyone experiencing elbow pain in Dallas.
Addressing elbow pain with effective treatments is crucial for restoring functionality and quality of life. In Dallas, residents have the advantage of Innovative Therapy PC, a renowned center for both non-surgical and surgical interventions. Depending on the cause and severity of the pain, our skilled team recommends a course of action tailored to you.
Non-Surgical Treatments
Non-invasive treatments are often the first defense against elbow pain, providing relief without surgery. Some of the prominent non-surgical treatments at Innovative Therapy PC include:
Physical Therapy: Guided exercises and stretches to strengthen the muscles and enhance the elbow's mobility.
Medications: Prescribed pain relievers and anti-inflammatories to reduce pain and swelling.
Elbow Braces/Wraps: Supportive gear to alleviate strain on the elbow joint.
Cold and Heat Therapy: Ice packs to reduce swelling and heat pads to relax and loosen tissues, aiding in pain relief.
Corticosteroid Injections: These injections directly target the pain site for severe inflammation, providing rapid relief.
Each treatment is curated based on the individual's needs, ensuring the best chances of recovery without resorting to invasive procedures.
Surgical Treatments
For cases where non-surgical treatments don't offer enough relief, surgery might be a viable option. At Innovative Therapy PC, our proficient team ensures patients undergo safe and effective surgical procedures. Some common elbow surgeries include:
Arthroscopy is a minimally invasive surgery with small incisions to examine and treat the elbow joint.
Tendon Repair: Directly fixing the damaged or torn tendons in the elbow.
Joint Replacement: In extreme cases of arthritis or injury, the damaged joint might be replaced with a prosthetic one.
Every surgical decision is made with utmost care, keeping the patient's health and long-term well-being in focus. Trust Innovative Therapy PC to guide you through the process from diagnosis to recovery.
Get a grip on elbow pain with our targeted therapy techniques in Dallas, TX.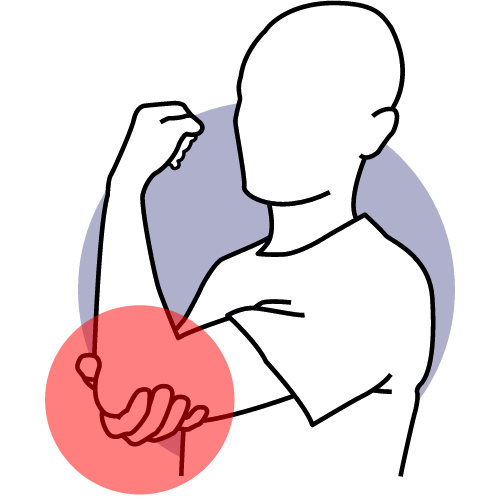 Exercise plays a pivotal role in preventing and treating elbow pain. At Innovative Therapy PC, we believe in a proactive approach to health, guiding our clients through therapeutic exercises tailored for them. Here are some commonly recommended practices:
Flexor Stretch: Extend your affected arm in front of you, palm up. Use the opposite hand to gently press down on the extended hand, stretching the forearm's underside.
Extensor Stretch: Similar to the flexor stretch but with the palm facing down. This exercise stretches the top of the forearm.
Wrist Curls: With a lightweight hand and forearm resting on a table (wrist hanging over the edge, palm up), slowly lift the weight by curling the wrist.
Pronation and Supination: Holding a weight vertically with your elbow by your side, rotating your palm up and down.
Tennis Ball Squeeze: Simply squeezing a tennis ball in the affected hand helps strengthen the forearm muscles.
It's vital to always consult a professional before starting any exercise routine. At Innovative Therapy PC, our experts ensure that every movement enhances your recovery and doesn't exacerbate the problem.
What Not To Do When Experiencing Elbow Pain?
Understanding what actions might worsen your elbow pain is as crucial as knowing the right treatments. Here are some general guidelines:
Avoid Repetitive Motions: Activities that involve repetitive elbow movements can exacerbate the pain.
Don't Lift Heavy Objects: Heavy lifting puts undue strain on the elbow joint.
Avoid Leaning on the Elbow: Continuous pressure can aggravate conditions like bursitis.
Refrain from Overextending: Overstretching the elbow joint can lead to further injury.
Do Not Ignore Persistent Pain: Dismissing or neglecting the pain can lead to more severe complications in the future.
Why Choose Innovative Therapy PC?
When dealing with elbow pain, Dallas residents deserve the best care. Here's why Innovative Therapy PC stands out:
Experienced Professionals: Our team comprises seasoned experts dedicated to your health and well-being.
Personalized Treatment: We understand that each individual is unique. That's why our treatments are tailored to your specific needs.
State-of-the-Art Facilities: Equipped with the latest technology and tools, we ensure effective and efficient treatment.
Holistic Approach: Beyond treating the symptoms, we aim to address the root cause and provide long-term solutions.
Excellent Track Record: Countless testimonials and success stories testify to our commitment and expertise.
At Innovative Therapy PC, your health isn't just our profession; it's our passion. Let us be your partner on the journey to a pain-free life.
Get a grip on elbow pain with our targeted therapy techniques in Dallas, TX.