Foot Pain Symptoms: Recognizing the First Signs
Foot pain can manifest in several ways, sometimes subtly at first, only to escalate if left unattended. Recognizing these early symptoms can be the key to seeking timely and effective treatment. Here are some common symptoms experienced by individuals:
Sharp or Stabbing Pain: Often an indication of a strain, sprain, or potential fracture.
Dull Ache: This could result from prolonged standing, ill-fitted footwear, or underlying health conditions.
Tingling or Numbness: Usually suggests nerve-related issues, possibly due to diabetes or nerve entrapment.
Stiffness: Often associated with diseases like arthritis or after a period of immobility.
It's important to note that symptoms can vary based on the exact region of the foot affected. Suppose you identify with any of these symptoms. In that case, seeking expert guidance becomes crucial for your peace of mind and preventing further complications.
Foot Pain Causes: Unraveling the Underlying Issues
Foot pain, although common, can arise from a myriad of causes. Here's a closer look at some predominant factors:
Muscle or Ligament Issues: Overexertion or not warming up properly can lead to strains or sprains.
Bone Concerns: Fractures, bone spurs, or conditions like osteoporosis can affect foot health.
Medical Conditions: Diabetes, arthritis, and other health issues might have secondary manifestations in the foot.
External Factors: Unsuitable footwear, excessive walking or standing, or uneven gait can contribute to foot pain.
Understanding the root cause is fundamental to alleviating the pain and ensuring it doesn't recur.
We give little to no thought to our feet until these supporting parts are screaming in pain like a goblin on Halloween.
Yet the stress we put through our feet is impressive.
When we can stack and move our body on top of our feet with ease and grace because of all the parts to work well together this balances the stress put through the feet.
There is a solution and it comes from looking at how the body stacks up on top of the feet and how the feet are working against the ground.
There are 21 joints in the foot which need to work together as you move from one surface to another and one activity to another.
These structures in your feet need to be integrated to enable your whole body to function well.
Foot Pain Diagnostics in Dallas, TX: Trust the Best
The significance of accurate diagnostics in treating foot pain cannot be emphasized enough. It's the foundation on which effective treatment strategies are built. And when it comes to foot pain diagnostics in Dallas, TX, one name stands out: Innovative Therapy PC.
At Innovative Therapy PC, we believe that each individual is unique, and so is their foot pain. Our approach to diagnostics is comprehensive:
Advanced Imaging: Utilizing the latest in X-rays, MRIs, and other imaging modalities to get a clear picture of the issue.
Physical Examinations: Our expert team conducts in-depth physical assessments understanding the nuances of your pain.
History Taking: A detailed look into any previous injuries, your daily activities, and footwear habits helps in forming a holistic understanding.
By choosing Innovative Therapy PC, you're investing in the highest level of care, ensuring that your foot health is in the best hands in Dallas. With accurate diagnostics, you're set on the right path to recovery.
Foot Pain Treatment in Dallas, TX: Expertise Meets Personalized Care
Foot pain can severely hinder daily activities. But with the right treatment, it doesn't have to. Dallas residents can access top-tier foot pain treatment at Innovative Therapy PC. Here's what sets our treatment approach apart:
Tailored Therapeutic Plans: Recognizing that each foot pain case is unique, we create customized therapeutic plans that address each patient's specific needs and challenges.
Cutting-edge Techniques: From non-invasive therapies to the latest medical interventions, our clinic employs the most advanced techniques in foot care.
Holistic Approach: We look beyond just immediate relief. Our treatments aim at root-cause resolution, ensuring long-term health benefits.
When you choose treatment at Innovative Therapy PC, you're getting relief and embracing a journey toward lasting foot health.
Take a step in the right direction against foot pain with our specialized treatments in Dallas, TX.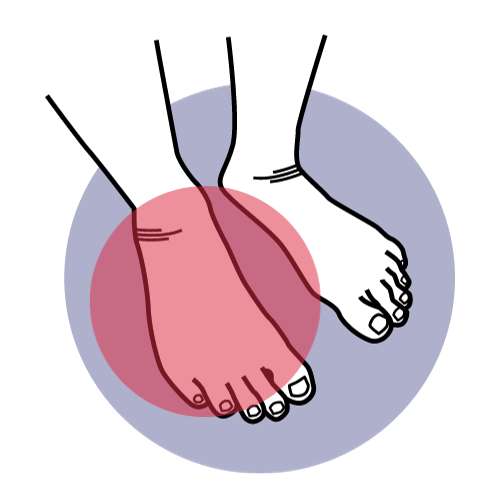 What Not To Do When Experiencing Foot Pain?
While seeking expert care is paramount, avoiding certain actions that could exacerbate your foot pain is equally vital. Here's a list of common pitfalls:
Ignoring the Pain: Brushing off minor discomforts can lead to significant complications in the future.
Wrong Footwear: Ill-fitting shoes or those without proper arch support can aggravate pain.
Self-medication: Without a proper diagnosis, over-the-counter medications might be ineffective and harmful in certain cases.
Excessive Strain: Continuing activities that stress the affected foot might delay recovery.
Listening to your body and avoiding these pitfalls can pave the way for faster recovery and better overall foot health.
Why Choose Innovative Therapy PC?
Choosing a foot care clinic isn't just about immediate relief; it's about ensuring the future well-being of your feet. Here's why Innovative Therapy PC should be your top choice:
Comprehensive Care: From diagnostics to treatment and aftercare, we offer a 360-degree approach to foot health.
Expert Team: Our professionals are more than just skilled; they're passionate about bringing relief and ensuring foot well-being.
State-of-the-Art Facilities: Modern equipment, the latest techniques, and a patient-first approach make us the go-to foot clinic in Dallas, TX.
Moreover, with our dedication to personalizing every patient's experience, you're not just another case but a valued individual seeking a pain-free life. Choose Innovative Therapy PC, where expertise meets genuine care.
Take a step in the right direction against foot pain with our specialized treatments in Dallas, TX.