Shoulder pain might seem straightforward, but the symptoms can vary greatly depending on the root cause. Recognizing these symptoms can help you determine the severity of the condition and when to seek medical attention. Common symptoms include:
Persistent aching or dull pain
Sharp pain during specific movements
Limited range of motion or stiffness
Swelling or tenderness around the joint
A sensation of grinding or popping when moving the shoulder
Weakness in the arm or shoulder
Bruising or change in the coloration of the skin
Numbness or tingling, especially radiating down the arm
It's essential to monitor the duration and intensity of these symptoms. If you notice persistent discomfort or worsening pain, it's time to see a professional.
Understanding the root of your discomfort is the first step to finding relief. Shoulder pain can arise from numerous causes, each with symptoms and treatment strategies.
Sprains and strains:
Description: Often resulting from overexertion, sudden movements, or incorrect posture, sprains involve the stretching or tearing of ligaments, while strains refer to muscle or tendon injuries.
Symptoms: Pain, swelling, and limited mobility.
Treatment: Rest, ice, compression, elevation (often called RICE), and over-the-counter pain medications. Physical therapy might also be recommended.
Dislocations:
Description: This occurs when the ball of the upper arm bone comes out of the shoulder socket. It can result from a fall or a sudden impact.
Symptoms: Intense pain, swelling, and deformity.
Treatment: Immediate medical attention is crucial. The shoulder will be put back into place and may require a sling for support as it heals.
Tendinitis:
Description: Tendinitis is the inflammation of tendons due to repetitive motion or aging.
Symptoms: A dull ache, especially when moving the affected limb or joint.
Treatment: Resting the affected area, applying ice and anti-inflammatory medications. In some cases, physical therapy or corticosteroid injections may be needed.
Bursitis:
Description: Bursitis is the inflammation of the bursa. This small fluid-filled sac acts as a cushion between bones and soft tissues.
Symptoms: Swelling, redness, and pain.
Treatment: Rest, ice, and pain relievers. If it becomes chronic, one may need corticosteroid injections or even surgery.
Rotator cuff injury:
Description: This involves irritation or damage to your rotator cuff muscles or tendons, including tears.
Symptoms: A dull ache deep in the shoulder can worsen with specific movements.
Treatment: Physical therapy, rest, and sometimes surgery.
Fractures:
Description: A break in any of the three main bones in the shoulder.
Symptoms: Intense pain, bruising, and swelling.
Treatment: Immobilization with a sling or cast, followed by physical therapy. Severe cases might need surgical intervention.
Arthritis:
Description: In the context of the shoulder, the most common form is osteoarthritis, which is the wear and tear of the joint over time.
Symptoms: Pain, stiffness, and reduced range of motion.
Treatment: Physical therapy, medications, lifestyle changes, and, in advanced cases, joint replacement surgery.
Recognizing the symptoms and understanding the potential causes of your shoulder pain is crucial in seeking the appropriate care. And if you're in the Dallas area, knowing where to seek that care becomes even more vital.
Shoulders are amazing but when the shoulder hurts it can stop you dead in your tracks, pain can radiate up into the neck and down into the arm.
What most people do not realize is how expansive the shoulder is until it stops working.
Shoulder Injury Diagnosis
If you're experiencing any of the symptoms mentioned above, getting an accurate diagnosis is crucial. The process often involves:
Medical History: Your doctor will ask about the onset of pain, activities leading up to the discomfort, and any history of shoulder problems.
Physical Examination: This involves checking the shoulder's range of motion, strength, and stability. Your doctor will also palpate (touch) different areas to identify swelling or tenderness.
Imaging Tests:

X-rays: Useful for detecting fractures or arthritis.
MRI and CT Scans: These offer detailed images and can help diagnose rotator cuff injuries, tendinitis, and other soft tissue problems.
Ultrasound: Useful for viewing the shoulder's soft tissues and assessing their function in real time.

Other Tests:

Arthroscopy: A minimally invasive procedure where a small camera (arthroscope) is inserted into the shoulder joint, giving doctors a clear view of the inside.
Lab Tests: If an infection or some forms of arthritis are suspected, blood tests might be ordered.
Early diagnosis is vital in preventing further complications and ensuring a quicker recovery. Suppose you're in the Dallas area and suspect a shoulder injury. In that case, seeking prompt medical advice is the best action
Shoulder pain, while common, is not something one should "live with." Modern medicine offers an array of treatments tailored to the cause and severity of the condition. Let's delve into surgical and non-surgical interventions available to tackle this ailment.
Shoulder Pain Surgery Treatments
Surgical treatments are typically considered when non-surgical methods have not provided relief, or the injury is too severe.
Rotator Cuff Repair: For torn tendons in the shoulder, surgery can be performed to stitch the torn tissue back together.
Shoulder Replacement: In cases of severe arthritis or fractures, the damaged parts of the shoulder may need to be replaced with artificial components.
Arthroscopy: This minimally invasive surgery allows the surgeon to insert small instruments through tiny incisions to repair various shoulder conditions. It's often used for rotator cuff tears, bone spurs, or ligament repairs.
Frozen Shoulder Release: For those with adhesive capsulitis or a frozen shoulder, this surgery helps to stretch and release the stiffened joint capsule.
AC Joint Resection: Recommended for those with arthritis in the AC joint, this surgery removes a small piece of the collarbone, allowing for more space and reducing pain.
Shoulder Pain Non-Surgical Treatments
For many, non-surgical interventions can offer substantial relief. These treatments are less invasive and can be tried before considering surgical options.
Physical Therapy: Custom exercises designed to strengthen shoulder muscles and improve flexibility.
Medications: Over-the-counter pain relievers, such as ibuprofen or acetaminophen, can alleviate pain. In more severe cases, prescription painkillers or anti-inflammatories might be recommended.
Rest and Immobilization: Sometimes, the best medicine is simply resting the injured area. Using slings or braces can help in such situations.
Hot and Cold Compress: Heat or cold can reduce inflammation and ease pain.
Corticosteroid Injections: These are powerful anti-inflammatory agents that can provide temporary relief from shoulder pain.
Platelet-rich Plasma (PRP) Injections: This involves drawing a small amount of the patient's blood, processing it, and injecting it into the injured area to promote healing.
In summary, whether opting for surgical or non-surgical treatment, it's vital to consult a medical professional, like those at Innovative Therapy PC in Dallas, to guide you through the best possible route for your specific condition.
Regain mobility and wave goodbye to shoulder pain with our expert care in Dallas, TX.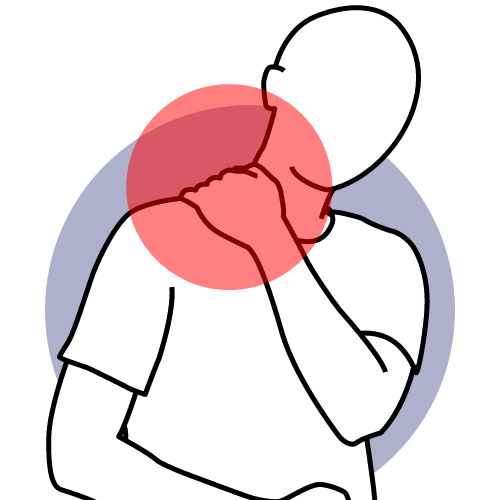 What Not To Do When Experiencing Shoulder Pain?
When dealing with shoulder pain, certain actions can exacerbate the condition and hinder recovery. Being aware of these common pitfalls can save you prolonged pain and potential complications:
Avoid Overexertion: If you're experiencing shoulder pain, it's not the time to push through and continue heavy lifting or intense workouts.
Don't Self-Diagnose: The internet is filled with information but is not a substitute for a professional diagnosis. Misdiagnosis can lead to incorrect treatments.
Avoid Prolonged Immobility: While rest is essential, allowing your shoulder to become too stiff by avoiding all movement can hinder recovery.
Don't Ignore Consistent Pain: If the pain is persistent, it's a sign that something's wrong. Seek medical attention.
Avoid Applying Heat to Fresh Injuries: For the first 48 hours after a new injury, it's typically advised to use cold compresses. Heat can increase swelling during this initial period.
Please don't Rely Solely on Painkillers: Over-the-counter pain medications can offer relief, but they're not a long-term solution and can mask the severity of an injury.
Why Choose Innovative Therapy PC?
Regarding shoulder pain relief in Dallas, you want a experienced and compassionate team. Here's why Innovative Therapy PC stands out:
Comprehensive Care: We don't just target the symptoms; we aim for the root cause. From conditions like bursitis to rotator cuff tears, we have the expertise to handle a broad spectrum of shoulder ailments.
Personalized Approach: Each individual is unique, and so is their pain. At Innovative Therapy PC, we understand this and curate a tailored plan based on your specific needs and goals.
Experienced Professionals: Our team is skilled in managing diverse conditions, ensuring you're in capable hands throughout your journey to recovery.
Cutting-Edge Techniques: Leveraging the latest in medical technology and therapeutic methodologies, we provide effective and minimally invasive treatments.
Holistic Healing: Beyond just physical treatment, we believe in empowering our patients with knowledge. From understanding your condition to prevention strategies, we ensure you're well-equipped to lead a pain-free life.
Conveniently Located: Situated in Dallas, our facility is easily accessible, ensuring you don't have to travel far for top-notch care.
Contact us today at (214) 225-8530 or email mary@test.innovativetherapypc.com to take the first step toward a pain-free life. At Innovative Therapy PC, your well-being is our mission.
Regain mobility and wave goodbye to shoulder pain with our expert care in Dallas, TX.