What People Say
Lisa Scholz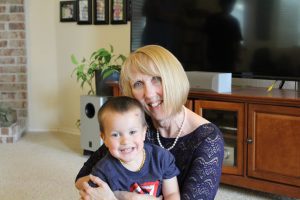 " This is my second round of therapy with Mary.  She helped me heal a hamstring injury and introduced me to the Bodi Systems.  Now I'm back with a shoulder injury.  All though I have a physical therapy clinic within walking distance of my home, I'd rather drive an hour to see Mary.  I know her methods work, but somehow I'm still surprised whenever I'm performing and exercise on my healthy side and my injured side improves! Just the system! It works!"
Heather Waldrop
"…I have received treatments from Ms. Thomas (Mary) for the past five and a half years through more than a dozen outbreaks of cellulitis and am happy to say that my arm has reduced in size and it is softer too. Yes, I still have lymphedema and some swelling, but the lymphatic massage therapy under Ms. Thomas' expertly trained hands continue to break up the blocks in the lymphatic system and keeps the excessive swelling to a tolerable level. Her guidance in diet and exercise plus the use of compression sleeves have been a boon as well. I feel blessed to have the services of someone with her level of knowledge regarding the lymphatic system plus her passionate dedication to serving those afflicted with lymphatic disorders. Her knowledge, expertise, and compassion have been a constant support and source of motivation to face lymphedema with a positive and hopeful mindset."
Judy Moen
"I have really enjoyed the experience of working with Mary Thomas, PT to improve the use of my arm, after a tendon tear. She is a caring, patient teacher, and as an R.N., IN totally agree with her rationale for her instructions. The premise of her system makes good sense for longterm change and improvement in body mechanics and movement. It is a different way of training your body to make better choices in how it moves, which decreases pain and improves the person's ability to do the motion. The movements she instructions you in are not necessarily difficult, but necessary for the body mechanics make-over: never pushing to pain thresholds."
Sarah Minckler
"My life changed dramatically because Mary taught me many ways to work with resolving aches and pain and movement difficulties. I now know how to make ease of movement a simple exercise in my daily life. She also helped me be aware of movements I could not perform, but after these exercises, I can see progress and continue to work on the movements at home, throughout the day. I am moving better!"
Jan Smith
"I began the classes with Move to Improve six months ago. I am 71 years old and in reasonably good health with minor back issues, range of motion limits, and needed to work on balance. I have attended classes three times a week, mostly yoga, and circuit training. In the past six months, I have definitely noticed an improvement in all areas I wanted to work on. My back has no more issues, and balance is much improved. My core has strengthened and balance is great. Truly, I am improved and find all activities easier to do in my daily life like standing, sitting on the floor (with grandkids), going up a ladder, and mowing the lawn. I feel stronger from head to toe."
Evette B.
"My ankle, knee, and kip issues were addressed with Innovative's exercise regimen and hands-on therapy that resulted in my ability to once again walk distances without pain. I have learned that my body is constantly changing and adapting to my everyday movements and that I can bring it back into balance with simple 'Total Motion Release' exercise and stretches. The best thing about my experience at Innovative Therapy was the encouragement to learn the techniques used to help me so that I would be able to continue to work on my physical therapy issues on my own."
Howard Minckler
"Great Experience! My energy level has improved, and I take fewer naps during the day (I work nights). My balance is improving. With the excellent instructions, I will be able to work out wherever I am and remain as healthy as possible for the rest of my life."
Juan Medina
"Ms. Thomas gave me back my shoulder and arm mobility. After a long time of limited mobility, I am back to normal activities and pain-free, excellent professional and awesome human being, she is at a Diamond level when it comes to Physical therapy. Thank you, Ms. Thomas. You are an Angel to me."
Jennifer Garcia
"Since starting my therapy with Mary in mid-January, my symptoms have begun to improve. During my therapy sessions, I have gained a better understanding of my conditions and still learning so much. My confidence level has improved greatly knowing that I have found a practitioner who has given me tools to help and who can continue to get me through flare-ups. I have entered into a new level of wellness I have never thought would be possible before therapy."
Victoria Trigos
"I noticed the beneficial change right away, physical, behavioral, and of course, functional. I loved the attention they gave the patients. From day one, Mary and her staff treated me with respect. I could tell they really, truly care for their patients' wellness. Every therapy day, Mary and Veronica would read my body language to see improvements or areas to work with more. They helped me feel better emotionally as well with their demeanor and words of support. Mary's own experiences help me have a different perspective on what I was going through. I knew I could do this! She was giving me the tools. I just had to do my part too. I felt and still do feel motivated."
Carmen Ramirez
"I had no idea how much my health would improve once I became a Physical Therapy patient with Mary Thomas, P.T. I had accepted my shoulder pain and the lack of flexibility as "just the way it was." She began to work on imbalances in my pelvis, my shoulders, and my back. Suddenly, everything worked and the pain and lack of flexibility disappeared. Balance was no longer a challenge. Nothing had been terribly wrong but it still got way better. I felt super strong and confident. She also addressed lymphatics which improved the flow of lymph. Now I am a believer in the powerful ways physical therapy can keep my body and even my emotions all in balance. Now I tell myself, when in doubt, check it out!"
Marie Shirley
"I am so amazed at my progress. My pain is very minimal if at all now. My range of motion, control, and balance are incredible for a woman of my age. My wellbeing and quality of life have been restored and I have hope, with the tools I have learned, to enjoy greater mobility for a long time. Most of all Mary taught me strategies to employ on my own at home that will contribute to my overall wellbeing. I would recommend Innovative Therapy to anyone without any hesitation."
Share Your Experience
We want to hear what our clients are thinking and feeling. Your feedback is highly valued, so if you have a moment to spare, we hope you'll let us know about your treatment and if there is anything we can do to improve your experience!